One of the goals of a pharmaceutical company is to produce a drug that meets regulatory standards. In addition to striving to meet regulatory standards, the drug produced - whether as a capsule or in any other form - must be intact or retain its active ingredients and excipients to achieve the desired quality. To achieve this feat, therefore, pharmaceutical companies are often keen on what type of capsule filling machine or sealing machine they purchase. Making the critical decision becomes crucial, as no company will want to underproduce and struggle to meet the needs of their customers.
Do you need a capsule filling machine?
Before you answer that question and let us outfit your facility with a quality capsule filling machine, we want you to know a few basics. We believe this will help you make the most of any pharmaceutical equipment we offer you.
Deciding on your capsule size
Making this decision wisely involves considering what type or mixture you want your capsules to consist of. This will give you an idea of the number of milligrams of capsules you intend to produce.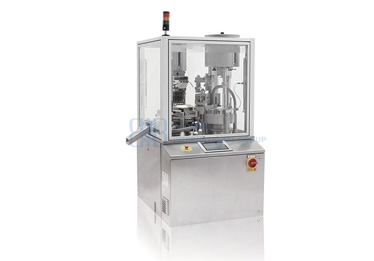 Capsule Filling Machine
Choose your capsule type
You can use our capsule filling machines to produce various types of capsules. Depending on the needs of your intended customers, you can choose to produce gelatin capsules that are best suited for anyone. On the other hand, hydroxypropyl methylcellulose (HPMC) capsules, which are most suitable for vegetarians, can be the capsule of your choice. In addition to the two types mentioned above, you may decide to specialize in branched-chain starch capsules, which are the best choice for organic freaks. That said, your plant may have the capacity to produce all of these types of capsules, so there is always a capsule filling machine for you.
Deciding Whether to Separate or Combine Capsules
Capsules also come in separated or joined capsules. Whichever one you are concerned with, buying the best type of capsule filling machine will help you get the desired results. For reference, then, separated capsules are mainly produced by manual capsule filling machines, while joined capsules are the product of semi-automatic and automatic filling machines.
Your choice of the encapsulator
Having understood what is involved in deciding on the best capsule filling machine for your production needs, it is now time to make your choice from our wide range of capsule filling machines.
Before going any further with your capsule filling machine selection, here are some of the working principles that combine each type of capsule with each other
Rectification detects some poorly formed gelatin capsules.
Separation of capsule cap from the body.
Formulation and dosing of the filling material.
Reattachment of the cap to the body.
Ejecting or removing the filled capsule.
If you want to know about the wholesale best capsule filling machines price, welcome to contact us.