There are many reasons why solid dosage forms are favoured in different industries. Just to highlight, the following are the greatest benefits of solid dosage forms and the reasons for their popularity.
- Solid dosage forms are easy to store due to their stability. They are also easy to handle during transport.
-Less storage space is required than other dosage forms (e.g. liquids)
- Dosing is accurate as the process of manufacturing the form is not very complicated in any given way
As solid dosage forms are manufactured in different ways, it makes sense to use different types of equipment to do the job. Each machine performs its own unique task at each stage of production and at the end of it all, you will have a complete granulation line.
Bin Blender
For convenience, I have grouped fluid dosage form manufacturing equipment into different categories based on their relevance in performing their functions.
These categories include.
1. Comminution/grinding equipment. Also known as communication equipment, they are designed to reduce the size of ingredients. They convert large solid particles into fine powder form.
Some of the equipment used in the production phase of solid dosage forms include
-Hammer mills
-Wet cone mills (connected to rapid mix granulators)
-Dry cone mills (connected to vacuum conveyors or elevators, isolated cone mills)
2. Mixing equipment. As the name suggests, the purpose of mixing equipment is to blend ingredients to achieve a homogeneous material. Mixing also ensures a homogeneous distribution of the active ingredients.
Equipment used for mixing includes
-Post bin blender
-IBC bin blender
-Fixed bin blender
3. Granulators. Equipment responsible for the granulation of solid dosage forms includes.
-Fluidised bed granulator
-Fluidised bed processor
-High shear granulators
-Rapid mixing granulators
4. Drying equipment: equipment used to dry solid dosage forms of agglomerates include.
-Fluidised bed dryers
5. Conveying and transfer equipment: These are mainly used for transferring products from one stage to another. Some of the equipment under this category includes.
-Vacuum conveying
-Lift columns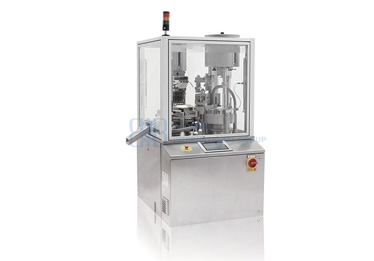 Capsule Filling Machine
6. Filling machine. This machine fills the other ingredients that are later processed into dosage forms. Some of the machines used in this stage of production include.
7. pressing/compression machines. These machines increase the hardness of the solid dosage form. Examples include
-Pill press machine
-Tablet press machine
8. Coating and polishing equipment: Examples of equipment that fall into this category include.
-Tablet coating machines
-Fluidised bed processors
As one of the leading professional whole-solution supplier, Baofeng International Group (Baofeng) specialized in Pharmaceutical & Foodstuff Processing and Packaging Equipments. Auxiliary equipments: Bin, Blender, lifter, Capsule polisher, Metal detector, Dust collector,Vacuum loader,Tablet tools etc. If you want to know more information about bin blender for sale, welcome to contact us.