Mixing is one of the most important functions, and therefore one of the most important aspects, of a powder processing system. In most food applications it is the main source of adding value to the products that enter the process. This is the case for everything from sports nutrition products to baked goods and everything in between.
Whether a beginner or seasoned professional, choosing a mixer from the extensive options available can be confusing and overwhelming. This article poses some questions to consider during the blender selection process.
1. Mixing time
Don't be fooled by claims of only four minutes of mixing time. It is important to weigh up the entire end-to-end process phase of mixing, from filling the mixer to emptying it and getting it ready to go back into operation. Mixing may only take four minutes, but loading may take two hours and the end of packing may take three hours - a total mixing time of five hours and four minutes.
In-bin/IBC blending might take a little longer for the blend cycle (often 10 to 15 minutes), but can save time as formulation of the recipe is done offline and the container is removed immediately from the blender and taken off to packing. The filling, mixing, and packing process steps take place simultaneously. The blender itself does not need cleaning so it is free to go back into service immediately. The only limiting factor is how quickly operators can install and remove the bins from the blender.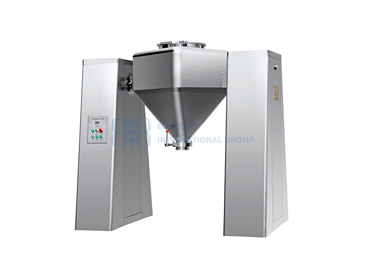 HGD Series Blender
2. Changeover times
Using a stationary mixer can be inflexible if several recipe changes have to be made during the day. Clean-up is required each time, which further increases the complete end-to-end mixing time. On the other hand, in-bin mixing offers instant changeover as there is no need to clean the blender and up to four batches per hour can be completed.
3. Easy to clean
It is important to ensure that expensive value-added ingredients are not "lost" during the mixing process. Consider what may be left in the blender. All stationary mixers have some residue left at the bottom of the mixer bowl or attached to the sidewalls, shafts, paddles, and bearings; this product is then washed away during the cleaning process. This is a valuable product that costs money and should not be flushed down the drain.
Consider what "hold up" areas may exist in the mixer of choice. Can the operator access all nooks and crannies safely and easily? Are the paddles/shafts removable? Are there easy access doors? What safety locking systems are integrated?
On a fixed mixer, clean-down times can vary between formulations, from as little as half an hour for dry cleaning between non-allergenic formulations to full, wet, and dry cleaning shifts of eight full hours. This represents not only a lot of waste but also a lot of labor costs, as this is often a labor-intensive activity.
Using in-bin blending, only the containers are cleaned, which is done offline. Even if the IBC has a complex diverter butterfly valve that needs to be removed for cleaning, this does not affect the overall plant efficiency of the mixer as other previously cleaned IBCs will be returned to the manufacturing process to maintain optimum flow.
As one of the leading professional whole-solution suppliers, Baofeng International Group (Baofeng) specialized in Pharmaceutical & Foodstuff Processing and Packaging Equipment. Auxiliary equipment: Bin, Blender, lifter, Capsule polisher, Metal detector, Dust collector, Vacuum loader, Tablet tools, etc. If you want to know more information about bin blender for sale, welcome to contact us.