Capsule machines fill empty capsules with powdered vitamins, supplements, and other substances. Because capsules are small and can break if not handled properly, using a machine designed specifically for you can simplify the manufacturing process exponentially.
Why use a capsule filling machine?
Filling capsules manually would be a time-consuming and delicate process. Considering that they are usually used to hold powdered substances, this makes precise, contamination-free production almost impossible. Instead, capsule filling machines allow you to create complete batches on a large scale. This eliminates the extreme tedium associated with completing the process without any equipment.
What to consider when choosing the right capsule filling machine for you
BAOFENG offers a wide range of capsule machines, as no two capsule filling machine manufacturers have the same operational requirements. Finding the right system that integrates with the rest of your production process can help you get a great return on your investment.
Here are some key factors to consider when researching the right capsule filling machine for you.
Capsule Filling Machine
Why are you looking for a capsule filling machine?
This question may seem obvious. If you are reading this article, you probably found it while researching capsule filling machines. However, consider this question for a moment. What has changed in the production process that now requires you to look for a new machine? Common answers may include but are by no means limited to
You have just signed a new private label contract for a capsule product and need to increase production.
Your pharmaceutical company is producing in-house and needs new production space to increase throughput.
You want to replace an existing machine or add another machine to increase manufacturing capacity.
Your business does not currently offer capsule filling services, but this is a new avenue you want to pursue
Again, these are just a few examples of the many reasons why people look for capsule filling machines. Understanding why you are looking for a machine will help you to better compare the solutions available on the market so that you can make a more informed decision.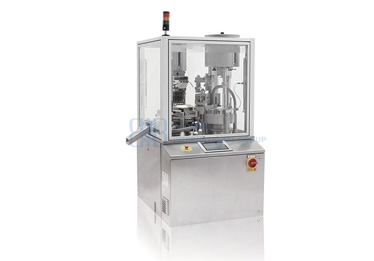 Capsule Filling Machine
Production facility footprint
Every inch of floor space is critical to maximizing the production output of your plant. After all, every piece of equipment needs to be installed in the same general area for you to set up your manufacturing process. Take this into account. Do you have enough space to accommodate large individual units? If not, can you allocate bench space for tabletop equipment without taking up other machines in your facility?
Before you start buying a capsule filling machine, imagine where you would like to place your future machine on the production floor. Mark out the area with some kind of tape and record the measurements. Having these measurements to hand will give you an idea of what will and won't fit into your facility.
Current and future manufacturing needs
Consider your current capsule manufacturing requirements and your anticipated future growth. You want to choose a capsule filling machine that will accommodate your current order volume and be able to expand as your business grows.
If you want to know about the wholesale best capsule filling machines price, welcome to contact us.